Drug Combo Tackles Brain Mets in Breast Cancer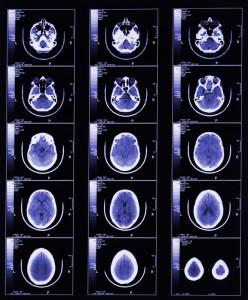 By Crystal Phend, Senior Staff Writer, MedPage Today
Published: November 01, 2012
Reviewed by Dori F. Zaleznik, MD; Associate Clinical Professor of Medicine, Harvard Medical School, Boston and Dorothy Caputo, MA, BSN, RN, Nurse Planner
The combination of the biologic lapatinib (Tykerb) and capecitabine (Xeloda) chemotherapy appears to shrink brain metastases from HER2-positive breast cancer without need for radiation, a phase II trial showed.
Two-thirds of patients saw their previously-untreated brain lesions shrink by at least half with the treatment regimen, Thomas Bachelot, MD, of the Centre Léon Bérard in Lyon, France, and colleagues found in the LANDSCAPE trial.
The median time to whole-brain radiotherapy (WBRT) was 8.3 months, the group reported online in the Lancet Oncology.
"Traditionally, most of these women receive WBRT which can impair cognitive function. Delaying such a treatment for those patients is potentially a big advance, which is particularly relevant for a population with short overall survival," Bachelot noted in a press release.
The efficacy of lapatinib and capecitabine was similar to whole-brain radiotherapy, noted Rupert Bartsch, MD, and Matthias Preusser, MD, both of the Medical University of Vienna, in an accompanying commentary.
The primary systemic strategy "might already be a valid treatment option" in this population with minimal clinical symptoms and good performance status, they suggested.
However, they cautioned about limitations of the treatment and the study.
Serious adverse events weren't uncommon with lapatinib plus capecitabine — 49% of the women faced grade 3 or 4 adverse events, most commonly diarrhea and hand-foot syndrome.
Side effects were "manageable," however, compared with those of brain radiation, which include delayed side effects of cerebellar dysfunction and cataracts, according to the researchers. Only four of the women discontinued treatment because of adverse effects.
But the group provided no data on neurocognitive function in the open-label, single-arm study of 45 patients.
"Furthermore, more than 40% of all patients did not present with neurological symptoms at baseline, which raises the question of whether screening for brain metastases was done and raises doubts about the feasibility of extrapolation of their findings to the general population of patients with symptomatic brain metastases," Bartsch and Preusser pointed out.
"More than 95% of all patients presented with Eastern Cooperative Oncology Group performance status of 0–2, which is better than would be expected in an unselected population of patients with brain metastases."
Nevertheless, it's clear that a phase III study is warranted, they agreed with the researchers, who said they are planning such a trial.
The brain metastasis response was "much higher than we expected" and greater than the 27% to 50% response rates seen with whole-brain radiotherapy alone in prior studies, Bachelot's group noted.
For the primary endpoint, 29 of the 44 evaluable patients had an objective CNS response marked by at least 50% volume reduction of brain metastases, all partial responses.
Notably, nine of the women (20%) got a CNS volumetric reduction of 80% or greater. Median time to CNS progression was 5.5 months.
The researchers cautioned that direct comparison cannot be made between these results and those of whole-brain radiation alone or other regimens, such as monotherapy.
The study was funded by GlaxoSmithKline-France and UNICANCER.
Bachelot and another co-author reported consultant or advisory roles at GlaxoSmithKline-France and research funding by GlaxoSmithKline-France. A third author declared research funding by GlaxoSmithKline-France.
Bartsch and Preusser reported having no conflicts of interest to disclose.
Primary source: The Lancet Oncology
Source reference:
Bachelot T, et al "Lapatinib plus capecitabine in patients with previously untreated brain metastases from HER2-positive metastatic breast cancer (LANDSCAPE): a single-group phase 2 study" Lancet Oncol 2012; DOI: 10.1016/S1470-2045(12)70432-1.
Additional source: The Lancet Oncology
Source reference:
Bartsch R, Preusser M "Primary systemic treatment of breast-cancer brain metastases" Lancet Oncol 2012; DOI: 10.1016/S1470-2045(12)70449-7.