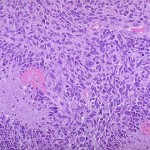 Intensified chemoradiation with temozolomide for newly diagnosed glioblastoma failed to improve survival or slow disease progression, according to results of a randomized trial.
Patients randomized to conventional treatment with radiation therapy and temozolomide (Temodar) had a median overall survival (OS) of 16.6 months, whereas patients who received radiation and dose-dense temozolomide had a median survival of 14.9 months.
Median progression-free survival (PFS) was about a month longer with the dose-dense regimen, but the difference did not reach statistical significance, reported Mark R. Gilbert, MD, of the University of Texas MD Anderson Cancer Center in Houston, and colleagues online in the Journal of Clinical Oncology.
"This study did not demonstrate improved efficacy for dose-dense temozolomide for newly diagnosed glioblastoma multiforme, regardless of [MGMT] methylation status," the authors concluded. "However, it did confirm the prognostic significance of MGMT (methylguanine-DNA methyltransferase) methylation. Feasibility of large-scale accrual, prospective tumor collection, and molecular stratification was demonstrated."