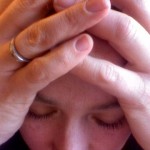 Migraine was linked to structural brain changes, particularly in the presence of aura, a meta-analysis showed.
White matter brain lesions appeared 68% more often in migraineurs with aura than in those without migraine; a trend for 34% elevated risk of white matter in migraine patients without aura didn't reach significance, Messoud Ashina, MD, PhD, of the Danish Headache Center at Glostrup Hospital in Copenhagen, and colleagues found.
Clinically-silent infarct-like abnormalities and brain volume changes also correlated with migraine, they reported online in Neurology.