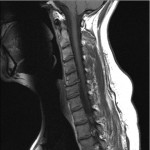 Patients with 2-level symptomatic cervical disc degeneration fare better in terms of future secondary surgeries when their discs are replaced rather than fused, a new study shows.
"We found out that the results are really better," first author Robert Jackson, MD, from Orange County Neurosurgical Associates in Laguna Hills, California, told Medscape Medical News.
Dr. Jackson presented the study, which used Mobi-C cervical disc prostheses (LDR Spine USA), here at the Congress of Neurological Surgeons (CNS) 2013 Annual Meeting.