Medtronic offers a wide range of neurostimulation and Targeted Drug Delivery products to fit the unique needs of each individual patient.
Neurostimulation
Targeted Drug Delivery
MRI Labeling
Neurostimulation
Neurostimulation therapy consists of an implantable system that delivers small electrical signals via a lead implanted in the epidural space. Pain signals are inhibited before they reach the brain and are replaced with a tingling sensation that covers the specific areas where pain is felt.
Medtronic neurostimulation is indicated to aid in the management of chronic, intractable pain of the trunk and/or limbs.
Medtronic is continually advancing neurostimulation therapy with the latest technology.
AdaptiveStim™, exclusively available with RestoreSensor™, is a first-of-its-kind neurostimulation system that uses an accelerometer similar to what is used in smart phones and gaming devices to detect a change in position.
Only AdaptiveStim lets your patient go about their day without using their programmer to change stimulation settings.
It:
Listens and senses when your patient changes position
Learns from previous experience and remembers your patient's last comfortable setting
Responds and automatically adjusts stimulation to your patient's optimal setting
Records your patient's objective data
Common uses for neurostimulation
Post-laminectomy pain
Failed back surgery syndrome
Degenerative disc disease
Herniated disc pain
Complex regional pain syndrome
Epidural fibrosis
Arachnoiditis
Peripheral causalgia
Benefits of neurostimulation
An effective method of pain control for many patients when used as directed
May reduce the consumption of oral pain medications
Reversible—can be discontinued or, if desired by the patient, surgically removed
Systems can be reprogrammed without surgery
Patient can control the level of therapy within programmable limits
Trial of therapy may help assess patient response
Screening test
A screening test provides an opportunity to assess the effectiveness of neurostimulation and gauge patient response without a long-term commitment. The trial offers an adjustment period and time to explore therapy parameters.
The goal of neurostimulation is at least a 50% reduction in pain. However, patient-specific goals may include less pain reduction but improved quality of life.
Risks associated with the use of neurostimulation
Neurostimulation may be associated with adverse events, and each person's experience may vary. Surgical risks include infection, pain at the implant site, and bleeding into the epidural space. Device risks include corrective surgery, jolting or shocking, lead fracture, lead migration, or lead dislodgement, which may result in unfavorable stimulation or loss of therapy effect.
Targeted Drug Delivery
Medtronic Targeted Drug Delivery uses the SynchroMed
®
II infusion system, in which an implanted pump releases pain-relieving medication through a thin, flexible tube (catheter) directly into the intrathecal space surrounding the spinal cord where pain signals travel, interrupting pain signals before they reach the brain.
4
This contrasts with oral pain drugs, which must be digested before they can circulate in the bloodstream and then cross the fluid surrounding the brain and spinal cord.The ability to target drug delivery enables patients to experience pain relief with a small fraction of an oral medication dose,
5
which can help to minimize the uncomfortable and sometimes intolerable side effects (eg, drowsiness, dizziness, dry mouth, nausea, vomiting, and constipation) that often accompany pain medication taken orally.
5-10
Medtronic Targeted Drug Delivery also can provide pain relief in patients who cannot achieve adequate control even with high doses of oral opioids.
11
Additionally, Medtronic Targeted Drug Delivery provides both physicians and patients with pain relief control. The physician controls the amount and incidence of pain medication available, in contrast to pills, which can be easily diverted or otherwise taken inappropriately, increasing the chance of abuse and/or unintentional overdose. Targeted drug delivery also enables physicians to completely hinder the diversion oral pain medications by tapering patients off of oral opioids and exclusively delivering pain medication intrathecally.
Before a patient is implanted with the SynchroMed II drug delivery system, a screening test is performed to help predict which patients are most likely to benefit from treatment. If the patient responds appropriately to the medication, the pump and catheter are implanted and the physician programs the system to slowly release medication over a period of time. It also can be programmed to release different amounts of medication at different times of the day, depending on a patient's changing needs. For example, if a patient experiences intermittent pain during a specific time of day or during a certain activity, the system allows patients to use myPTM® (Personal Therapy Manager), a hand-held device, to activate another dose of the medication within physician-set limits.
The pump stores the information about the prescription in its memory, and the doctor can easily review this information. When the reservoir is empty, the doctor or nurse refills the pump by inserting a needle through the skin and into the fill port on top of the pump. The system can be turned off or surgically removed if a patient decides to discontinue the therapy.
Potential applications for Targeted Drug Delivery
Since the first implantable drug pump was approved for the treatment of chronic pain more than 20 years ago, Medtronic Targeted Drug Delivery has been used to manage chronic pain in thousands of patients with conditions that include:
Cancer pain
Failed Back Surgery Syndrome (FBSS)
Complex Regional Pain Syndrome (CRPS)
Compression fractures from osteoporosis
Postherpetic neuralgia
Arachnoiditis
Chronic pancreatitis
Phantom limb pain
Benefits of Targeted Drug Delivery
Many people experience improvements in their pain symptoms and quality of life after receiving Medtronic Targeted Drug Delivery. Benefits may include:
Significant (50 percent or greater) reduction in pain12-14
Improved ability to function and participate in activities of daily living13,14
Lower medication doses compared with oral medications, which may result in reduced side effects4,6-10
Fewer oral pain medication(s)13,14
Proven safe and effective when used as directed
Reversible – therapy can be turned off as desired or surgically removed at any time
Ability to undergo full-body MRI scans – FDA-approved for full-body scans; designed to resume programmed therapy after the scan
The use of myPTM®, which provides the patient with the ability to administer medication and maintain control over their therapy
SynchroMed II is the most tested and experienced drug delivery system, offering unmatched:

Reliability, demonstrating 98 percent event-free therapy 48 months in more than 150,000 patients
Accuracy, with only 1 percent average flow-rate error in the clinical setting
Precision, as the only programmable drug delivery system with 99.7 percent repeatability from pump to pump
Screening test
A screening test is required to assess the effectiveness of Targeted Drug Delivery as a treatment option for chronic pain.
A trial can be performed using various delivery methods:
Continuous epidural
Continuous intrathecal
Bolus epidural
Bolus intrathecal
Patients who report at least a 50% reduction in pain may be candidates for long-term therapy.
Risks associated with the use of Targeted Drug Delivery
The implanted pump and catheter are surgically placed under the skin. Surgical complications are possible and include infection, spinal fluid leak, and headache. Patients should not undergo the implant procedure if they have an active infection at the time scheduled for implant.
Once the infusion system is implanted, device complications may occur which may require surgery to resolve. Drug overdose or underdose can result because of these complications and have serious and even life-threatening adverse effects. Possible complications include the catheter or pump moving within the body or wearing through the skin. The catheter could leak, tear, kink, or become disconnected. The pump could stop because the battery has run out or because of failure of another part of the infusion system. Additionally, inflammatory mass has been reported at the tip of the catheter, which may lead to complications, including paralysis.
For additional safety information, please refer to the labeling provided with the device and the Important Safety Information at www.medtronic.com/chronicpain. Also it is recommended that patients discuss the benefits and risks of this therapy with their doctor.
MRI Labeling
Nearly 7 million head scans are performed each year in the US—1 every 4.6 seconds.
Only Medtronic premium neurostimulators have FDA approved labeling for 1.5-Tesla MRI head scan
Medtronic SynchroMed® pumps have FDA approved labeling for 3.0-Tesla MRI full body scan
MRI procedures by anatomy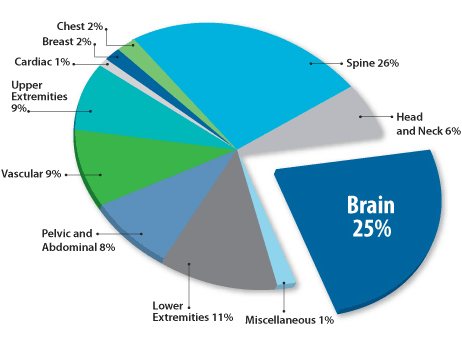 aExcept Itrel® 3. Under specific conditions of use. Refer to approved labeling.
MRI head scans can diagnose several common conditions, including
Stroke
Brain tumor
Cause of headache
Multiple sclerosis
Seizure
Hearing loss
References
Medtronic Neurostimulation Therapy for Chronic Pain: Percutaneous Lead Implantation Guide. Minneapolis, MN: Medtronic, Inc.; 2008.
Medtronic Implantable Systems Performance Registry (ISPR) 2007 Annual Report: Protocol NSP0010-10000. Minneapolis, MN: Medtronic, Inc.; October 2008.
Medtronic Neurostimulation Systems for Pain Therapy Brief Summary. Minneapolis, MN: Medtronic, Inc.; February 2009.
Medtronic web site. Link: http://www.medtronic.com/patients/chronic-pain/device/drug-pumps/questions-answers/index.htm. Accessed: February 23, 2012.
Brogan SE. Intrathecal therapy for the management of cancer pain. Curr Pain Headache Rep. 2006;10:254-259.
Gerber HR. Intrathecal morphine for chronic benign pain. Best Pract Res Clin Anaesthesiol. 2003;17:429-442.
Nance P, Meythaler J. Intrathecal drug therapy. Phys Med Rehabil Clin N Am. 1999;10:385-401,viii-ix.
Ruan X. Drug-related side effects of long-term intrathecal morphine therapy. Pain Physician. 2007;10:357-366.
Smith TJ, Swainey C, Coyne PJ. Pain management including intrathecal pumps. Curr Pain Headache Rep. 2005;9:243-248.
Winkelmuller M, Winkelmuller W. Long-term effects of continuous intrathecal opioid treatment of chronic pain of nonmalignant etiology. J Neurosurg. 1996;85:458-467.
Onofrio BM, Yaksh TL. Long-term pain relief produced by intrathecal infusion in 53 patients. J Neurosurg. 1990;72:200-209.
Doleys DM, Brown JL, Ness T. Multidimensional outcomes analysis of intrathecal, oral opioid and behavioral functional restoration therapy for failed back surgery syndrome: a retrospective study with 4 years' follow-up. Neuromodulation. 2006;9:270-283.
Deer T, Chapple I, Classen A, et al. Intrathecal drug delivery for treatment of chronic low back pain: report from the National Outcomes Registry for Low Back Pain. Pain Med. 2004;5:6-13.
Roberts LJ, Finch PM, Goucke CR, Price LM. Outcome of intrathecal opioids in chronic non-cancer pain. Eur J Pain. 2001;5:353-361.